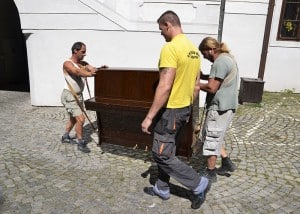 Movers offer various things to help your relocation go along without a hitch. They are always finding services to offer that are designed to make any move easier for everyone. With all the special tools and equipment that moving companies have, they can offer various services. Many San Francisco Bay Area moving companies train their employees to handle specific matters, which helps the relocation even more. For instance, piano moving requires training and skill that an untrained mover would not otherwise possess, and therefore, they would not be capable of handling a piano move.
Piano moving services are rather detailed. The mover must take the piano apart and carefully wrap each piece. These pieces usually include the legs of the piano, among other smaller pieces. The base of the piano is then set upon a flat service with wheels, wrapped up securely, and then placed onto the truck.
When the movers arrive at the piano's new home, they reassemble every piece. They will ensure the piano is in good shape and working order before they leave. When a person isn't trained to handle a piano move, they won't understand the first thing about safely moving a large piece.
Unless you hire a mover to relocate the piano, you won't have any insurance coverage protecting the musical instrument. It is always wise to have insurance coverage on the piece especially when it could so easily suffer damage if not handled properly during the move. If it is in the care of a mover, the piano is covered by insurance, and any possible damages it might suffer from will be covered.
https://www.bayareamovers.co/wp-content/uploads/2015/05/bam-logo.png
0
0
[email protected]
https://www.bayareamovers.co/wp-content/uploads/2015/05/bam-logo.png
[email protected]
2015-08-09 07:24:07
2023-11-27 05:42:43
Why You Need Piano Moving Services