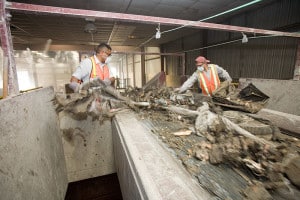 The moving companies throughout the Bay Area take great care of their customers and not only their customers, but their environment. Most of the movers in California try to offer as many eco-friendly services as they can. One of these services is recycling. Of course, recycling services through a moving company don't include your typical plastic bottles and paper products. With as much space as the movers have on their trucks and all of the equipment they have to assist with lifting, they can certainly haul much larger items to a recycling facility.
Items That Can Be Recycled through Most Movers
Televisions
Computers
Washers
Dryers
Old Game Systems
Servers
Printers
Office Equipment
Scrap Metal
All of the items listed are commonly found being hauled away by moving companies who were paid for recycling services. The movers usually have relationships with the recycling facilities in the area, so that they always have somewhere to directly haul the recyclables after they are picked up from the property.
Recycling facilities will take the junk and make sure that it is reused in some way, shape of form. This is only protecting the environment from harmful effects that could endanger the wildlife surrounding us in the Bay Area. Not to many people are aware of the recycling regulations or facilities made available to them. It is also harder for those with the junk to find a truck large enough to haul the items away and lifting them can be strenuous. Recycling services aren't expensive and it can save you a lot of time and money.
https://www.bayareamovers.co/wp-content/uploads/2015/05/bam-logo.png
0
0
[email protected]
https://www.bayareamovers.co/wp-content/uploads/2015/05/bam-logo.png
[email protected]
2015-08-25 06:51:42
2023-11-08 08:17:21
How Does a Mover's Recycling Services Work?