Corporate relocations can get pretty stressful. Moving an entire business – the infrastructure, employees, and equipment – takes time, planning, and effort. If you're about to organize one such relocation, it's worth noting that this doesn't have to be a painful experience.
Corporate moving services can make the job much easier. You can also follow many other tips and tricks to reduce the stress and hassle of relocating an entire business.
How a Corporate Moving Company Can Help
The first tip on moving to a new corporate location is to consult a corporate relocation company. If you can reduce the load on yourself and pay a professional to do the transportation part for you, you should absolutely take that opportunity. Corporate relocation moving companies can take transportation and many other things off your plate.
Here's why it's better to hire a professional corporate relocation company than try to do everything the DIY way:
More storage room and organization
Most company relocations include bulky and fragile furniture, office materials, and equipment. These materials are also expensive and difficult to transfer from one place to another. Even the smallest workspaces feature more elements than one truck can carry. For this reason, it's better to leave the job to professional companies that can efficiently map out how many trucks are needed for a fast and confusion-free transfer.
Depending on the furniture or element type, some things may need special tools to be relocated to a new location. As a DIY mover, you're restricted to the tools you have at hand. Professional contractors have many machines and elements for packing and moving bulky objects.
Some corporate relocation moving companies offer special plans and discounts for relocating employees. Make sure to specify how many employees you'll be moving to see if you're eligible for such a plan, should there be one.
If you're moving from one office, but the new one isn't ready for use, you'll need a warehouse or another storage service to keep your belongings. Some corporate moving services also include warehouse storage for this occasion. You can get more details on what your deal with the company comprises and whether it can fit in additional storage services.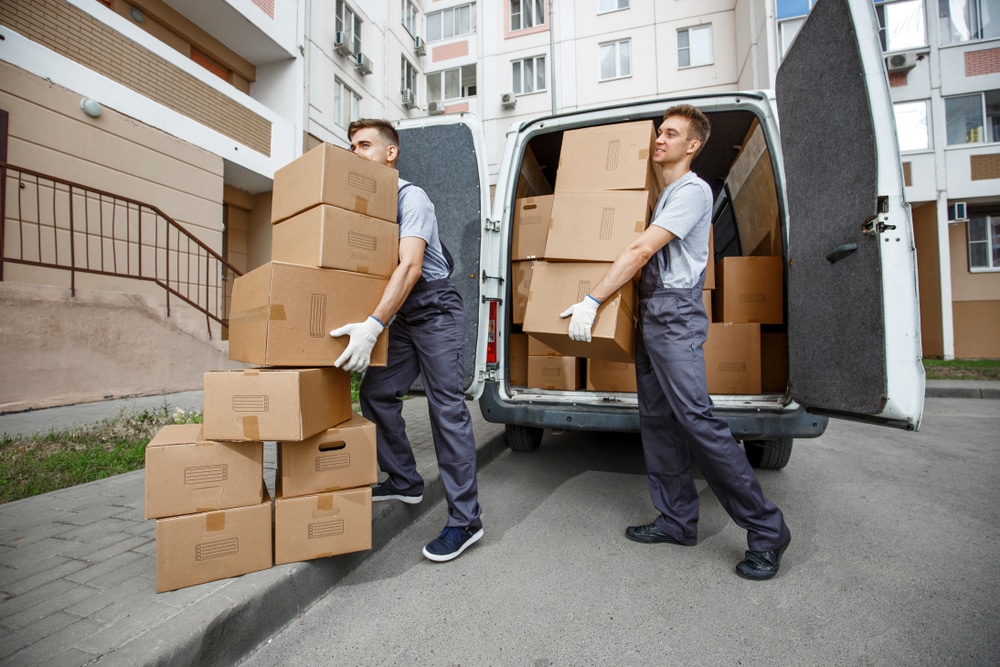 Additional help for packing
Chances are that if you and your team operate out of a small office, you can handle the packing and removing all personal items from the office yourself. But bigger workspaces often require packing many small and large items before moving. You can get additional help from your corporate relocation company to speed up the process. Most modern service providers can offer some kind of help like this.
Of course, when choosing such a company, you should be careful to hire the movers you trust. There are hundreds of movers in the market, but only a few have the experience and capacity to perform corporate relocations. Do thorough online research or contact your colleagues who went through the experience and ask for recommendations.
To help you in the process, we'll share the top seven tips to consider when choosing corporate relocation movers:
1. Check Their Service Offering
Plenty of moving companies offer similar services. However, finding the one that specializes in your specific type of move is crucial. So, you want to look for corporate relocation service providers exclusively.
Why is this important?
If you hire a private moving company, you may find they have limited capacity when transferring a larger number of possessions. Also, the turnaround times can be much longer given that their employees aren't used to relocating so many people and things at a time.
Also, if your company is moving across borders, you want to ensure the corporate moving company you're considering also offers international services.
After all, you'll feel safe when working with a service provider who knows exactly the kind of problem you're facing. Corporate companies will also have a better network of transportation methods and drivers to meet your specific needs.
2. Investigate Their History
Before hiring a moving company, check their "" page on their website. See how long they have been operating, especially regarding your type of move.
3. Look Into Their Reputation
Once you verify that a relocation company does corporate relocations and has been operating for a while, the next step is to check the reputation. If you discover a company with many negative customer reviews, it's a big red flag. Word of mouth is the best way to go here, but if you lack direct contacts, always look for reliable reviews and learn to recognize scam movers.
If you have already contacted a prospective company, you can ask them to provide you with three references from their most recent moves to other companies like yours. This way, you can avoid falling for the trap of movers who advertise as commercial but, in reality, have only done household moves. Such companies won't be able to provide the references you ask for, and you'll know they're scamming you.
4. Contact Their Customer Service
A reliable corporate moving company will have a well-functional and responsive customer service team. As a customer, you should have them explain the moving process from A to Z. Also, the pricing should be transparent, and there should be no unexpected charges. If some additional payments can occur, their customer service should warn you of them beforehand.
5. Inquire About Their Insurance Certificate
Before entering business with a relocation company, ensure their Insurance Certificate lists your company or the building owner as insured parties. Doing so will protect your valuables against damage or compensation claims. If you aren't sure whether your belongings will be insured, don't hesitate to ask, as this procedure is normal. Should the mover refuse or hesitate to answer, it's a sign they aren't experienced in this type of moving services, and you should refrain from doing business with them.
6. Ask for a Plan of Action
Get a detailed action plan once you're done with the pre-move survey and are ready to sign with a relocation company. You should have information regarding the cost estimate, truck size, the number of movers required for the move, and the support equipment that will be used for the project. Also, the action plan should estimate how long the move will take and how the process will flow. You can proceed with that employer if the plan seems reasonable and meets your objectives.
7. Beware of the Hourly/Net Cost
Many companies make the mistake of only focusing on the hourly mover rates. Ultimately, they expressed surprise that the process took longer than expected, causing the final cost to be much higher. So, if a relocation company gives you an estimate that sounds too good to be true, it most likely is.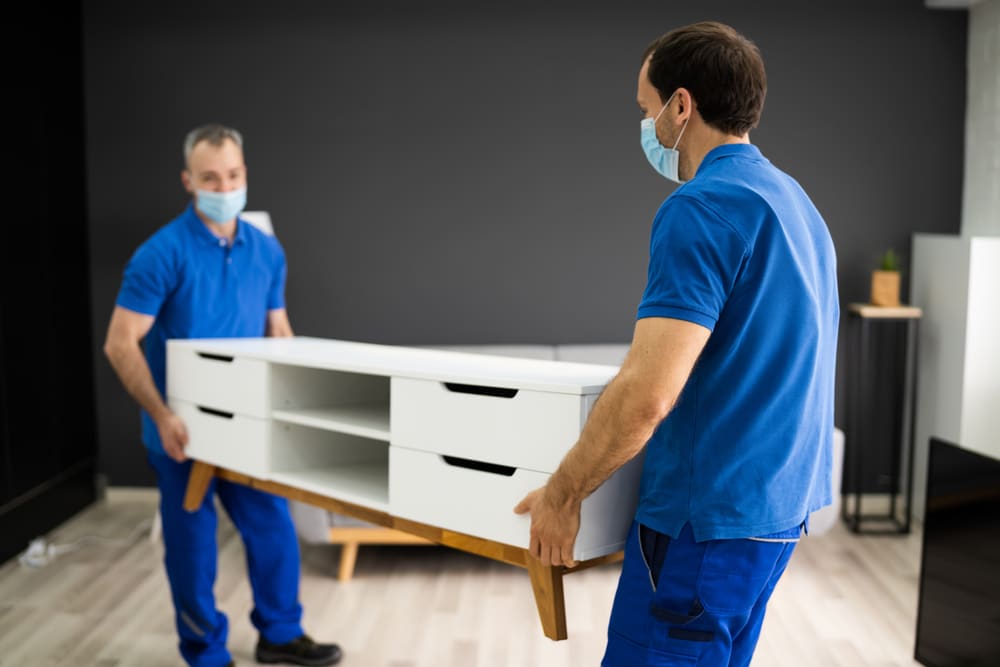 Other Tips for a Successful Corporate Relocation
Even though corporate relocations mainly depend on corporate moving companies, other factors must be considered to ensure your relocation goes smoothly.
1. Keep Everyone Up to Date
All employees must know about it beforehand if you're moving a whole office. Make sure to communicate the news to everyone as soon as you are certain of the decision. There's no need to share too many details, but at least try to let your team know where the new location will be and what they can do to help. You can also share the new building rules, parking arrangements, and everything you believe will be necessary for the team to know.
Also, inform your IT team about the move at least three months in advance. This should give them enough time to take care of the new location's phone connections, internet plan, and similar things. They may also want to check the new location in person to verify whether your current equipment can fit or if there should be any upgrades.
2. Remove Things You No Longer Need
Corporate relocation often means disposing of a bunch of equipment that's no longer in use. Ensure to do this before the movers arrive to reduce distractions and speed up the packing process. Removing old and unused supplies and tools will make the moving experience much less stressful. It'll also declutter your new office before you even get there. You can always sell or donate furniture you don't need anymore.
3. Plan the Relocation Early On
Corporate relocation calls for planning and good timing from the early stages. Come up with a moving date and relocation process time frame. After doing so, you can create a schedule and share it with everyone involved in the relocation, including the employees and the relocation company. You may also want to plan the budget before contacting the movers. This way, you can steer clear of making uninformed decisions.
4. Create a Moving Checklist
To-do lists or checklists will save you a lot of trouble throughout the moving process. With so many tasks, forgetting to get things done is easy. Don't only create checklists for yourself – do so for the whole team moving to ensure nothing gets missed.
5. Organize Boxes With Name Cards
Packing up things from your office, you can stick name cards in multiple places to know which tools, files, and equipment are in which boxes. You can also give a layout chart to the movers so they can place the boxes at appropriate locations.
6. Do a Data Backup
Your data and other important files will make it to the new location safe and sound. But don't take the chance of something going wrong and losing access to your essential work files. Accidents happen, hardware gets damaged, hard disks get lost, etc. While insurance can handle a broken computer, it can't guarantee to retrieve all files written on it. That's why making a copy of important data and keeping it at a separate location when moving is important. You can also consider cloud storage backups for this occasion.
7. Get a Project Manager
You may want to assign a project manager if you're dealing with a large-scale corporate relocation. The move certainly requires a team effort, and a project manager can facilitate all its aspects and take the load off your back regarding communication and planning. Note that your team leader needs to be able to multitask, organize events and assignments, and communicate easily. They could also have experience making budgets.
8. Update Your Address
As you move to a new location, don't forget to let your suppliers, customers, and prospective clients know of the change. Make sure to update the new location on your Google Business Profile, website, social media pages, or business cards.
9. Buy New Equipment in Advance
Once you sign the deal for the new business place and get rid of the equipment you no longer need from your previous office, it's time to make some shopping lists. Order new furniture or IT equipment well in advance so the team can operate properly from Day 1. Don't forget to coordinate the equipment delivery with your suppliers so everything is in place on time.
10. Reschedule Meetings and Projects if Necessary
As you plan your office move, don't forget about any scheduled meetings you have around that time. Make sure to reschedule important client meetings or project deadlines. The last thing you want is to meet a client in your old office with no files and laptops present.
Also, it's unfair to expect your team to be efficient at work while they lack essential equipment for work or when they have just moved to a new location. Give them a few days to adjust to the new environment.
Corporate Relocations Can Be Easy
Moving your business to a new location doesn't have to be a daunting experience. With proper organization and communication with your team, you can prepare for the big day without much trouble. And if you're on the lookout for reliable, licensed, and hard-working corporate relocation movers, contact Bay Area Movers. After all, a thorough plan and professional help from corporate movers can make any office relocation a breeze.
https://www.bayareamovers.co/wp-content/uploads/2019/10/commercial-movers.jpg
667
1000
joetolm
https://www.bayareamovers.co/wp-content/uploads/2015/05/bam-logo.png
joetolm
2022-09-02 10:41:00
2023-11-27 00:11:33
How to Make Corporate Relocations Go Smoothly