You need to consider many things when you're moving to a new apartment or house. Hiring a moving truck, finding boxes and packing supplies, disassembling your furniture, and wrapping all your dishes and fragile belongings in bubble wrap are just some of them when not using full-service movers. Packing clothes, however, is something people usually leave until the last minute.
People assume that packing clothing is easy and you can just throw all your clothes in duffel bags or boxes. You may think this is the quickest and easiest way to pack clothes, but all your clothes will be wrinkled when it's time to unpack. To save yourself hours of ironing or even re-washing, there are many things you can do to make sure your clothes arrive in optimal condition and closet-ready.
In this article, we'll discuss the best way to pack clothes when moving. We'll also give you tips for packing clothes that will make the whole moving process much easier for you.
What to Do Before You Start Packing Clothes
The process of packing clothes for moving should consist of carefully-planned steps. The more care and effort you put into packing your clothes, the better shape they'll be in when they arrive at your new address. When you unpack your boxes, you'll immediately be able to sort your clothes in your new closet without having to wash, dry, and iron them again. But before you start packing clothes, there are a few things you need to do.
1. Make a Throw-Away, Give-Away, and Keep Pile
Every time you move into a new place, it's a good idea to throw away unnecessary stuff you don't use anymore and items that are in bad shape. The same goes for clothing. That being said, parting with your old clothes might not be as easy as tossing away outdated magazines or your empty bottle collection.
The best way to pack clothes when moving includes setting aside clothes you will get rid of and clothes you plan to take with you. You can do this by sorting your clothes into three piles; a throw-away pile, a give-away pile, and a keep pile. If you find it difficult to throw away old clothes, just ask yourself when was the last time you wore them. If you didn't wear a piece of clothing in the last year or two, it's a sign that you probably won't wear it in the future. If something doesn't fit you anymore, you have no reason to hold onto it.
You can donate the give-away pile to charity or give it to your friends or family members. The throw-away pile goes in the recycling bin. Another option is to sell clothes that are still in good shape. This leaves us with the keep pile, which is now ready to be packed.
2. Assess How Much Packing Supplies You Need
Now that you know how much clothing you're taking with you, you'll be able to assess how much packing containers you need. It's important to prepare all the boxes and duffel bags before you start packing. That way, you'll avoid the hectic and stressful situation of realizing you don't have enough boxes for all your clothes.
3. Wash and Dry-Clean Your Clothes
This step is very important, and it shouldn't be skipped. It's imperative to wash all your clothes before packing them. You don't want to do laundry on your first day at your new home. Even if you throw only one dirty piece of clothing into a box with clean clothes, you're creating double work for yourself.
When you do wash your clothes, make sure they're fully dry before packing them. If you put damp clothes in a box or a sealed container, it will undoubtedly make the whole box smell bad. Not to mention that you'll have to wash them all over again. Clothes made from silk, leather, linen, suede, and wool can be dry-cleaned.
Make sure you set enough time aside for this step and don't rush it.
4. Sort the Clothes Into Different Categories
While there are many packing clothes hacks for moving, one factor trumps the rest, and that's organization.
Organization is key when it comes to packing clothing. The best way to organize your clothes is by sorting them into different categories. There are various ways to do this. You can sort your clothes by material, season, or usage.
For example, separate your summer clothes from your winter clothes. If you have lots of delicate clothes that require special packaging, set them aside. If you're moving with a family, make sure the clothes for each person are separated in different boxes. Another way to sort your clothes is by piece. For instance, place pants in one box, shirts in another, and so on.
How you sort your clothes is ultimately up to you. Just make sure your future self will be able to find everything when it's time to unpack.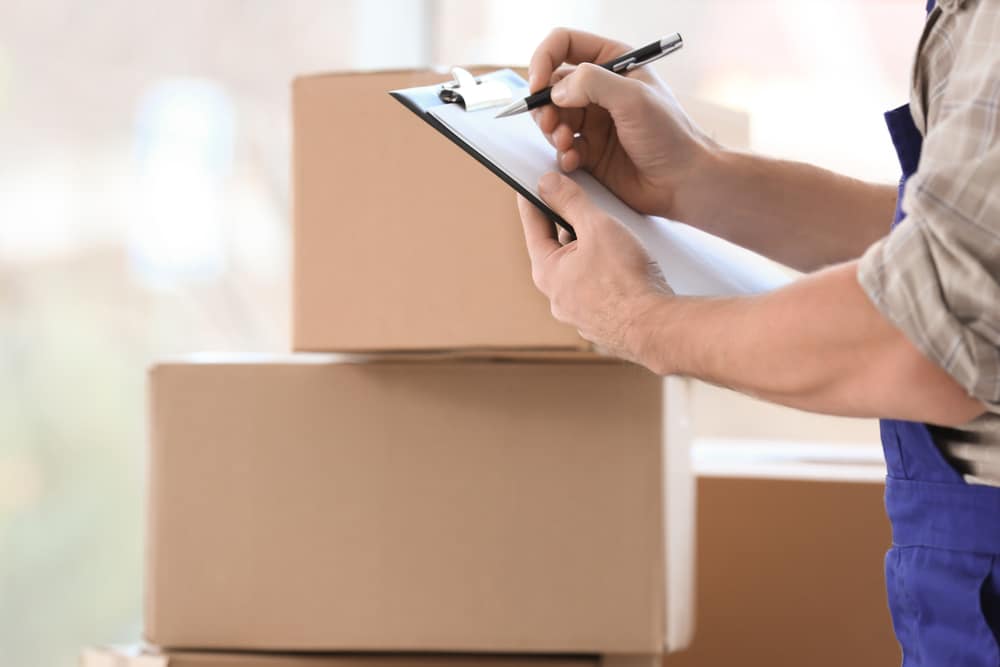 How to Pack Clothes for Moving
Now that you've prepared your clothes, let's see how to pack a closet for moving. Follow this step-by-step guide to find out the best way to move clothes:
1. Choose Where You Will Store Your Clothes
Deciding which packing supplies to get is the first step toward packing clothes for moving. Most people buy cardboard boxes, plastic containers, and duffel bags for packing clothing.
When it comes to boxes, you can buy standard cardboard boxes, which are perfect for packing folded clothing. If you're looking for an easy way to move clothes, wardrobe boxes are ideal for clothes on hangers. If you have enough suitcases, they're a great alternative to boxes.
If you have the budget for it, we suggest getting plastic containers instead of cardboard boxes. They're much safer for your clothes, whereas cardboard boxes can retain moisture, rip easily, and even attract pests. Plastic storage containers are a good option for clothes you don't plan on wearing any time soon.
Duffel bags are easier to carry, and they're cheaper, but your clothes might get jumbled in there. However, if you neatly fold the clothes and stack them on top of each other, they should still be fine by the time they arrive.
Vacuum bags are handy for bulky clothing, like jackets and coats, and they're great for saving space. Not to mention that they keep away moths and other pests, protecting your clothes until they're unpacked. You can also buy special garment bags for your delicate clothing, like suits and dresses.
2. Select the Best Packing Method
The next step is to choose a packing method. The most effective moving clothes hack is hanging as many pieces of clothing as possible. The reason why it's better to hang clothing items than to fold them is to prevent wrinkles. Moreover, you won't have to put them all on hangers again before putting them in your new closet.
The best way to pack clothes on hangers is with wardrobe boxes. These types of boxes are specially designed for packing clothes for moving. They come with a metal hanger bar where you can hang various types of clothing. Make sure to get thin hangers to maximize storage. For extra space, hang multiple pieces of clothing on one hanger. If you can, get garment bags for extra protection.
When it comes to non-hanging clothes, you have two options; folding and rolling. There are various ways to fold your clothes. If you're not good at folding clothes, you can watch hundreds of five-minute tutorials on YouTube. Rolling is another popular packing method, allowing you to save space by stacking rolled pieces of clothing on top of each other. Folding is better for cotton materials and rolling is more suited for synthetics.
3. Protect the Clothes From Damage
Protecting your clothes is important, so they don't get damaged during the move. There are various ways to do this. The best way to protect your clothes is by wrapping them with plastic covers or sheets. This will protect them from dust, dirt, and moths. You can also place a cling wrap between each piece of clothing, which also prevents them from creasing. When it comes to delicate clothing, it's also a good idea to place a paper towel between them.
If you're packing clothes in cardboard boxes, you can place a plastic wrap or packing paper at the bottom of each box. The plastic wrap will protect your clothes from moisture in case the bottom of the box comes into contact with water. You can add another layer of plastic wrap or packing paper on the top of your clothes before sealing the box.
Garment bags are ideal for protecting your hanging clothes, but they might cost a bit more. If you can, buy at least a dozen of them and place your most valuable pieces of clothing in them. Another way to protect your clothes is by keeping light and dark clothing separate. Moisture and humidity can cause dark-colored clothing to transfer colors to light-colored clothing.
4. Secure the Boxes With Tape
No matter how meticulously you pack your clothes, if you don't seal the boxes properly, it will all be for nothing. You don't want the box to break open and for all your clothes to fall out. To prevent this from happening, make sure to secure the boxes with tape. Secure both sides of the box with packing tape.
Be careful about putting too much clothing into one box. This will result in the bottom of the box breaking. If you're using duffel bags to pack your clothes, make sure the drawstrings are tightly and securely tied.
5. Label All the Boxes
When you're transporting your clothes to a new place, be prepared for a lot of boxes. Whether you choose cardboard boxes, wardrobe boxes, or plastic containers, they will all look the same. That's why it's important to label all the boxes before shipping them to your new address.
You can use a permanent marker to label the boxes. This is why it's a good idea to categorize your clothes first. Instead of just writing "clothes" on all the boxes, you can label them in different ways. For example, "summer clothes," "jackets," "baby clothes," "pants," "skirts and dresses," and so on.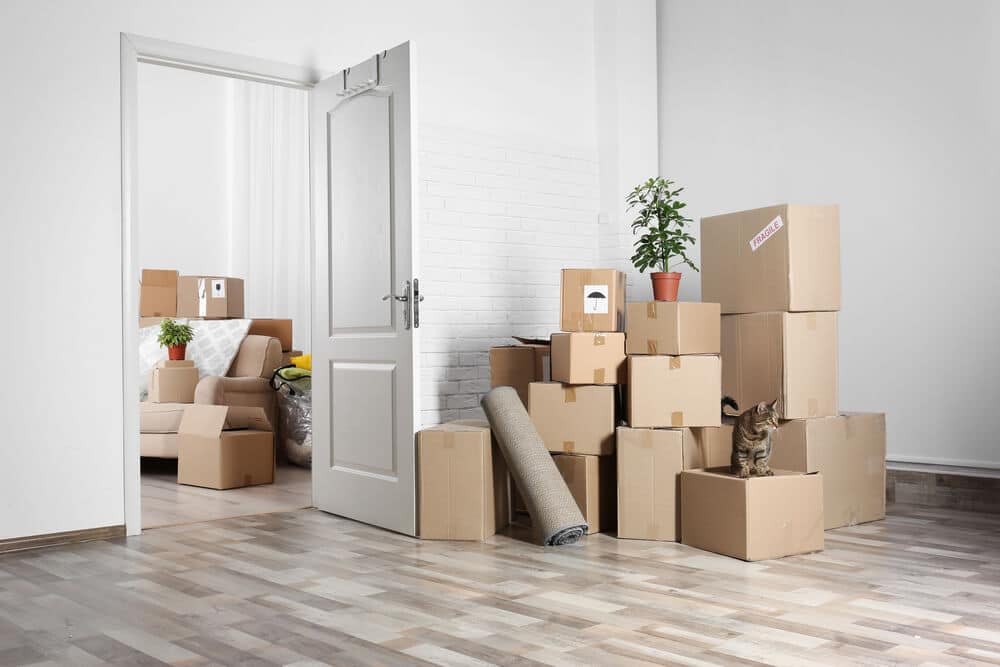 Additional Tips for Packing Clothes
Now that we've covered how to pack clothing with our step-by-step guide, let's see what else you can do to pack your clothes successfully.
Be Careful About Delicate Clothes
As mentioned before, delicate clothing needs special care and packing materials. This also applies to valuable clothing, like your wedding dress, which should be stored in a vacuumed-sealed bag. It's best to set one box aside, which will be just for your delicate items.
Pack Clothes You'll Wear During the Move
A lot of people pack all of their clothes, but they forget to leave some clothes for the move. Unless you plan to wear the same outfit during the entire move, separate comfortable, everyday clothes you can wear until you arrive at your new home. This is especially important if your new apartment or house is a long distance from your old one.
Don't Overstuff the Boxes
To avoid overstuffing the boxes, just buy extra boxes so you'll have enough room for everything. While maximizing storage is important when packing clothes, putting too many pieces of clothing into one box will cause it to break. Not to mention that it will be very heavy to lift.
Choose the Right-Sized Box
Make sure to choose appropriately-sized boxes for your clothes. You don't need jumbo-sized boxes. Instead, get small and medium-sized boxes.
Leave Clothes in Your Dresser
If you're wondering how to pack closet for move, there is another way to pack your clothes. Instead of taking out all your clothes and organizing them in boxes, just leave them in the dresser drawers and then transport the dresser with the clothes inside.
This isn't a good idea if you're moving by yourself. If you hire professional movers in Bay Area, they'll be able to transport your dresser together with your clothes. This is a neat moving clothes hack. When the dresser arrives at your new address, you won't have to unpack anything. The clothes will already be in the dresser.
Pack Clothes Like a Pro
Although many people hate packing because it's stressful or boring, it doesn't have to be this way. When it comes to packing clothes for moving, there are plenty of things you can do to make sure your clothes arrive in tip-top shape.
If you don't have time to pack all your clothes, you can hire a reliable professional moving company that will do all the packing for you. Here at Bay Area Movers, we help our customers by coming to their homes and packing all their clothes for them. Our team of skilled movers will handle your clothes with care, making sure they arrive in optimal condition. If you want to know more, don't hesitate to contact us.
https://www.bayareamovers.co/wp-content/uploads/2019/10/1-mover.jpg
667
1000
joetolm
https://www.bayareamovers.co/wp-content/uploads/2015/05/bam-logo.png
joetolm
2022-08-02 06:21:10
2023-11-27 01:03:41
The Ultimate Guide to Packing Clothes for Moving