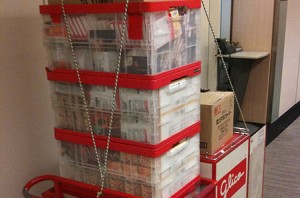 A huge part of relocation is packing all of your belongings up so that the are protected and ready for transport. Not only is this an arduous process, but it requires that you use the right packing materials. Cardboard boxes, newspaper, bubble wrap, packing tape, and packing peanuts are usually what is needed to pack properly. While a lot of these materials can be recycled, they usually aren't. It creates a lot of mess and can be quite overwhelming as you are packing or unpacking all of your belongings.
E-crates are usually made of plastic and they can be rented from many different moving companies. You can choose to rent them for the packing process, so that cardboard boxes and tape aren't even necessary. It condenses the mess and even helps protect the environment. When you rent the e-crate, you simply use them to pack everything in before your property's transport. When you are through with the unpacking process, you have them returned to the moving company. Most moving companies will even come drop them off and pick them up.
Not only can you rent e-crates, but if you want to avoid the packing process all together, you can purchase full packing services. The movers will arrive sometime before the scheduled transport and bring the e-crates with them. They will then pack up everything using the proper packaging techniques. Everything will be packed securely and ready for transport.
There are other eco-friendly services you can inquire about through the moving company too. Most will offer recycling services and other environmentally sound features to their customers. They understand the importance of keeping the earth green.
https://www.bayareamovers.co/wp-content/uploads/2015/05/bam-logo.png
0
0
[email protected]
https://www.bayareamovers.co/wp-content/uploads/2015/05/bam-logo.png
[email protected]
2015-08-26 07:57:09
2023-11-06 19:17:34
What Is E-Crate Rental?