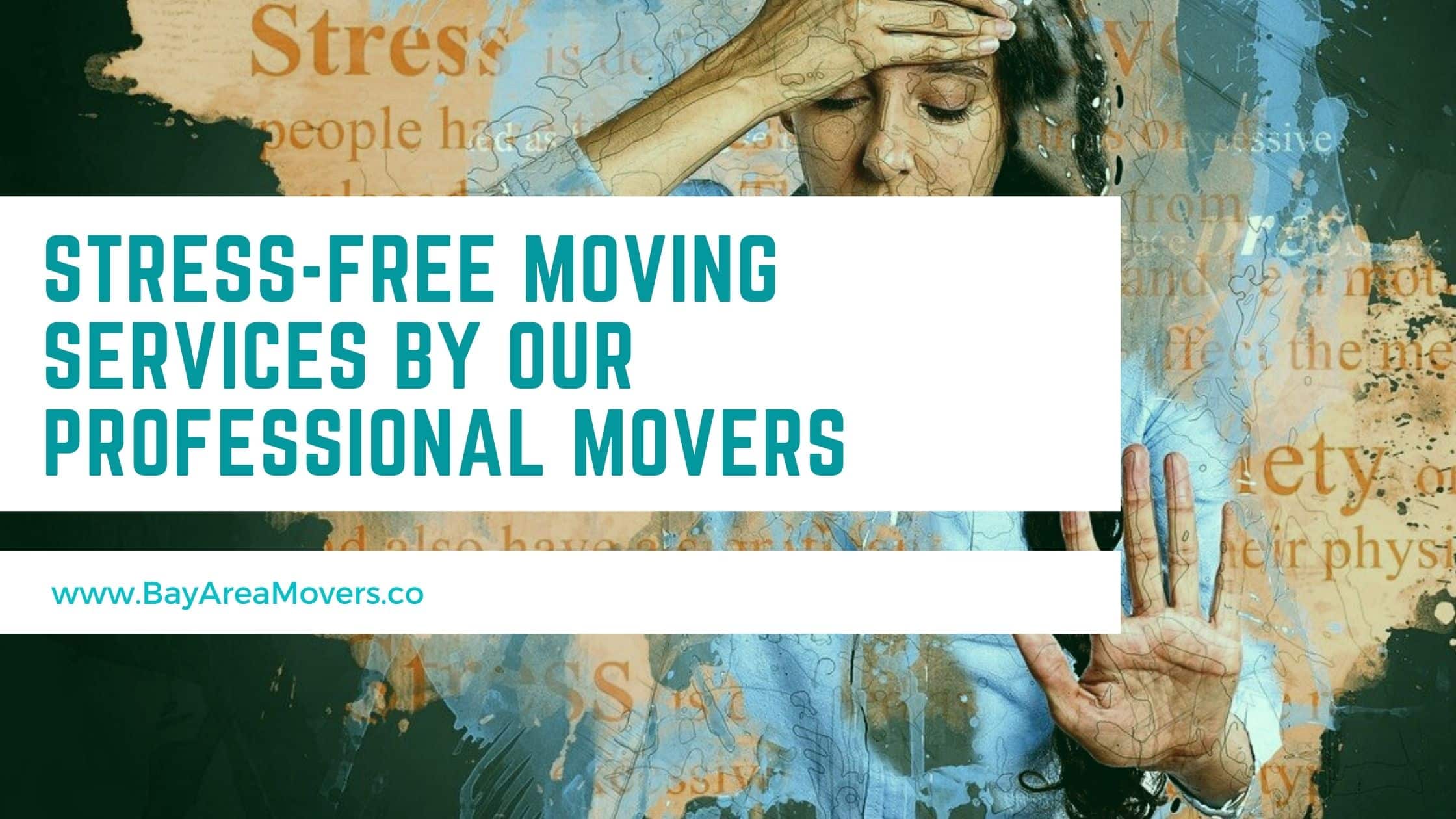 Whether you're moving across town, across the state, or across the US, the specialists at Bay Area Movers what a stressful undertaking this can be for anyone.  Packing up your entire life in boxes and relocating to unfamiliar surroundings is stressful enough, so it's important to ensure that everything is planned and prepared by moving day.  Moving to a new place should be an enjoyable and exciting experience.  One of the best ways to accomplish this is by relying on the stress-free moving services by our professional movers once moving day arrives.
How can you eliminate the stress of moving?
One of the things that you have to remember about moving is that, despite the stress and worry that accompanies such an endeavor, it tends to all work out in the long run.  Families and individuals get so caught up when planning and preparing to move that it's difficult for them to remember that they need to take a break once in a while and just breathe.  Here are a few of Bay Area Movers' helpful tips for making your move less stressful:
Accept the fact that stress is a common component of moving – if you understand this up front, it will lower the risk of setting you back. Just keep in mind that stress is a normal response to demanding situations.
Allot enough time so you'll be 100% ready on moving day – one of the primary stressors of the moving process is time, or more specifically, a lack of it. Remember, the more things that you leave until the last minute, the more stressful things will be.
Stay organized – the secret to reducing moving stress is to stay organized. The stress-free moving services by our professional movers are excellent organizers and planners if needed.  At Bay Area Movers, we know that prioritizing the organization of your move up front you'll have fewer headaches throughout the moving process.
Tackle the small stuff first – Confucius was definitely right when he said "The man who moves mountains begins by carrying small stones first." The same applies to moving.  If you address the little things first, you'll be amazed when you find out that they add up to bigger things.
Most importantly, remember why you're moving.  Remind yourself of the reasons for moving throughout the process.  Take breaks, maintain your meal schedule, and stay hydrated.  You'll feel refreshed and definitely more relaxed as you move forward with the relocation process.
What is the best way to eliminate as much moving day stress as possible?
If you have enough room in your moving budget, hire Bay Area Movers and the stress-free moving services by our professional movers.  Nothing will relieve your stress more effectively than letting professional movers tackle the bigger, back-breaking tasks of the relocation process.  You'll be surprised at how two or three extra pairs of hands can minimize your moving stress.  Not only will there be a lot less work for you to handle, you'll be able to focus on other more important aspects of your move. That is why we can step in anytime you need us to handle the move.
Why hire full-service movers rather than basic moving services?
When you hire a moving company that only provides the basic services, you actually pay more and get less in return.  Worst of all, you'll still have to do all of the planning and preparation for moving day.  On the other hand, when you hire Bay Area Movers and the stress-free moving services by our professional movers, we take care of literally everything associated with your move.  This includes:
Supplying all the moving and packing supplies needed for your move
Disassembling your larger furniture items then reassembling them in your new home
Packing your belongings and then unpacking them at your new location
Loading our moving truck and then unloading it once we arrive at your new address
Transporting your furniture and belongings from your existing address to your new destination
Helping you dispose of all used moving and packing materials as well as any other debris related to your move
Furthermore, it's important that you are well-rested when moving day arrives.  If you hire professional movers to help with your relocation, you won't have to sacrifice any sleep, in order to get things done.  We are right here to help you get things done and ensure that the move is made as smooth as possible.