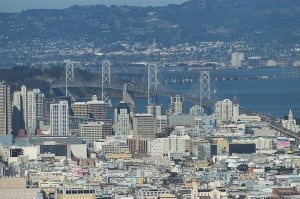 Whenever you are planning a move, looking for a reputable moving company is the first thing you should do. South San Francisco has a lot of wonderful moving companies available to assist you with any type of relocation. Even full office buildings can be relocated simpler with the assistance of a mover, especially if they offer office relocation services.
About Office Relocations San Francisco
Office relocations are a bit more detailed than other types of moves. There is large and heavy office equipment to move, cubicles to take down and reinstall, files to keep organized, and fragile items such as computers to handle. It requires training and professionalism to get the job done without any harm being caused.
The amount of work it takes to relocate an entire office can be exhausting and expensive if done on one's own. It is always wise to hire a local mover with office relocation services. They are trained to handle this type of move and will have all of the proper tools and pieces of equipment. This will be extremely beneficial to you and your employees. It will even cost less and make it easier on everyone involved.
A mover will handle all of your office's machinery with great care. They will take apart the larger items if necessary and reassemble them when they get to their new home. They will also make sure that all files stay intact and nothing is out of order. They have certain packing materials they can use to keep everything extra protected. The entire process will go along smoothly and everything will be covered with the moving company's insurance coverage. If anything ends up missing or harmed, it will be repaired or replaced at no cost to you.
Trusted Moving Company in South San Francisco – BayArea Movers

You can rely on BayArea Movers to meet all of your moving needs in South San Francisco and the neighbouring areas. We are committed to offering dependable, effective, and stress-free moving services and have years of experience and a motivated team of professionals. We have the knowledge and tools to make your move a smooth one, whether you're moving your house or workplace locally or across country.

Comprehensive Moving Services

To meet your unique demands, BayArea Movers provides a wide range of comprehensive moving services. Our staff of qualified experts is prepared to manage every element of your move, guaranteeing a seamless transition from beginning to end. Our offerings consist of:

Residential Moving:
Efficient and careful packing of your belongings
Loading, transportation, and unloading of your items
Assembly and disassembly of furniture
Placement of belongings in your new home

Commercial Moving:
Minimizing downtime and disruption to your business operations
Professional packing and handling of office equipment, furniture, and documents
Efficient transportation and timely delivery of your items
Expertise in handling specialized equipment or sensitive materials

Local Moving:
Familiarity with South San Francisco and the surrounding areas
Efficient route planning for timely and cost-effective moves
Knowledge of local regulations and parking restrictions
Attention to detail in handling your valuable possessions

Long-Distance Moving:
Reliable and timely transportation across state lines or even cross-country
Secure packing to protect your belongings during the long haul
Tracking and updates throughout the journey
Flexible scheduling to accommodate your specific needs

Packing and Unpacking Services

Packing and unpacking can be tiresome and overwhelming, and our crew is aware of this. In order to save you time and energy, we provide expert packing and unpacking services. High-quality packing supplies are used by our seasoned packers to guarantee the secure handling and delivery of your belongings. We can also help you unpack your belongings so you can move into your new place without experiencing additional stress.

Furniture Assembly and Disassembly

It can be difficult to move furniture, especially when it needs to be assembled and disassembled. All sorts of furniture, including large and heavy pieces, can be handled by our knowledgeable staff with ease. You will save time and work by having us professionally deconstruct your furniture for secure transit and rebuild it at your new location.

Why Choose BayArea Movers?

When it comes to choosing a moving company in South San Francisco, BayArea Movers stands out for several reasons:

Experience and Expertise:
Years of experience in the moving industry
Trained professionals with in-depth knowledge of moving techniques
Expertise in handling various types of moves, from residential to commercial

Reliable and Efficient Service:
Punctual and dependable movers who prioritize your satisfaction
Well-maintained and fully equipped moving trucks
Efficient packing and handling techniques to ensure the safety of your belongings

Customer Satisfaction:
Commitment to providing exceptional customer service
Attention to detail and personalized approach to meet your unique requirements
Positive reviews and testimonials from satisfied customers

Licensed and Insured:
Fully licensed and insured moving company
Peace of mind knowing your belongings are protected throughout the move

Competitive Pricing:
Transparent and competitive pricing with no hidden fees
Free, no-obligation moving quotes to help you plan your budget
At BayArea Movers, we understand that moving can be a stressful experience, and our goal is to alleviate that stress by providing reliable, efficient, and personalized moving services. Whether you are moving within South San Francisco or embarking on a long-distance journey, our team is dedicated to making your move a positive and hassle-free experience.
With a focus on professionalism, attention to detail, and customer satisfaction, BayArea Movers has built a reputation as a trusted moving company in South San Francisco.