Moving To of From Calistoga
Calistoga is a beautiful city in Napa County, in California's wine country. The city itself is fairly small with a population of just over 5,000. Boasting beautiful vineyards and a relaxed lifestyle, people often flock to this city to unwind.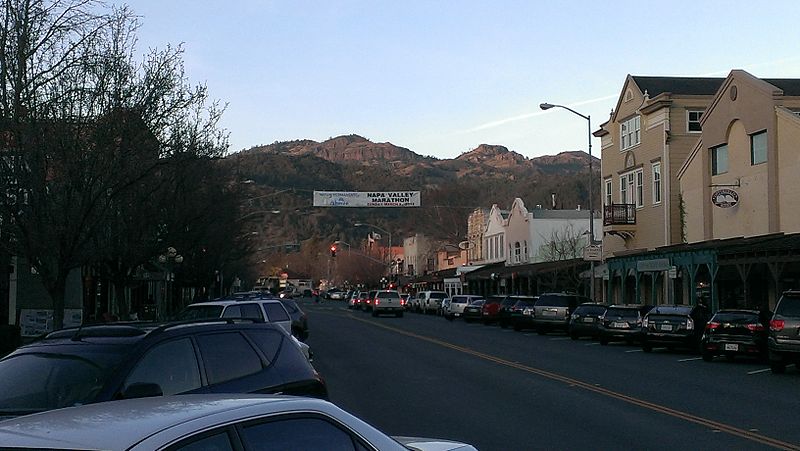 Find a reliable moving company
Getting everything situated for a move is a time consuming and lengthy process. Relocation requires the hands of many people and the right tools to make the job go well. It isn't wise to conduct a move on your own, especially if it is a larger move or one that requires a great distance of travel. Hiring professionals out of Calistoga is usually the best option.
If you're moving to or from Calistoga, you'll want the help of movers who know the city like the back of their hand. At Bay Area Movers, we're proud to have more than 30 years of experience in the moving industry. Our friendly, qualified staff are pleased to help with your move to or from Calistoga.
Advantages of hiring a professional mover
• You could save money.
• The professionals will take care of everything in regards to the relocation of your belongings.
• You can opt in for other features and services such as full service packing to make the job go quicker and more efficiently.
• Your property will be covered by insurance.
• If you're incapable of lifting or you simply don't want to strain yourself, the movers will do it all for you so that you won't have to put that kind of stress on your body.
• Hiring local movers will assure that they are familiar with the area and aware of the city laws.
• You will have more time to focus on other matters as in your normal daily activities.
• The movers are trained to properly handle your possessions. They can calculate space and make better judgments.
• They can properly pack your boxes and care for your furniture if you choose to go with full packing services.
There are many advantages to hiring a mover and perhaps the biggest thing to remember is that it is the wisest decision you could make in regards to relocation. No one needs the added stress or time taken away from them. Money shouldn't be an obstacle. Compare prices and find the local movers with services that will only help your relocation go along smoothly. A moving company usually offers seasonal discounts, specials and promotions so see if you qualify for any.
---
Bay Area Movers can help you move your household goods nationwide. Call (408) 659-2190 to get a free, no obligation to buy price quote on interstate moving services.
---
Long Distance Moves
Whether you're coming or going from places like Oakland, Sacramento, or San Francisco, Calistoga is accessible via numerous highways. Our Van Lines trucks will easily maneuver through the city, getting you to or from your location without a problem.
At Bay Area Movers, we're pleased to offer our moving services from state to state, and even cross country. Our team is prepared with the skills and equipment to get you from A to B, no matter how far the distance in between. Along the way, you'll be able to enjoy services like large item loading, storage, GPS tracking, and more.
Local Movers
The city of Calistoga is hard to leave; we aren't surprised if you're staying close by! With the Sterling Vineyards, Petrified Forest, and Lavender Hill Spa to enjoy, we don't blame you.
With local moves, our professional movers will happily assist you with loading, packing, and transporting your possessions.  Whether you're moving to Heather Estates or maybe the Palisades neighborhood, no distance is too small for our team.
Apartment Moving
There are an abundance of beautiful apartments in Calistoga, which is why Bay Area Movers offers apartment moving services to anyone who requires them. Apartments can be tricky, especially when you're trying to move in or out of tight hallways, small elevators, or multiple staircases.
Avoid the stress, and put our team to work! We've got the equipment and supplies to perform a safe, effective move from any apartment floor. We'll keep your items safe, and the apartment hallways free of damage. You'll be moved in before you know it!
Full-Service Moving
With our full service moving option, you have the ability to customize our services. If you only need us for transporting items, we're happy to do it. If you don't have time to pack, we can take care of the entire process!
We are here from the beginning stages to the very last stages if need be. You let us know what you need, and we'll create a plan that caters to you.
Military Moves
California is home to a range of military bases, which means there are a lot of men and women in service who are constantly relocated.
To make the entire process easier, Bay Area Movers is proud to assist military moves in the Calistoga area, and beyond. No matter where you need to be, we'll get all of your belongings organized, packed up, and shipped safely to your new destination. We're here to make the process as simple as possible.
Commercial Moving
Apart from residential moves, Bay Area Movers are also happy to offer commercial moving options. If your business is moving to or from Calistoga, we'll provide you with all of the trucks, dollies, and ramps you need.
Depending on the size of your business, we'll make sure we have the perfect amount of movers to keep things running smoothly. In addition, we are happy to help with the takedown of your office, including breaking down desks, shelving cubicles, and more.
When we arrive with everything at your new destination, we can even help build your office back up again! You'll be open to business sooner than you think!
Office Moving
Similar to commercial moving, Bay Area Movers are equipped for a complete and secure office move. We'll help you safely pack up everything you need, including furniture, office equipment, confidential information, and more.
We'll keep things organized and protected, and complete that fast and efficient move that you need. At your final destination, you can either re-organize on your own or let our movers help you to set up in your new office space.

International Moving
Moving to or from Calistoga can get tricky when you're moving internationally. Luckily, Bay Area Movers have the knowledge and expertise to get this type of move done carefully and efficiently.
We'll help you figure out what forms you need to fill out, and what to expect when you're going through customs. We'll even ease your worries by connecting you with an international account facilitator, who will guide you through the process and answer any of your questions.
Furniture Moving
One of the more popular furniture stores in Calistoga is Casa Design Napa Valley. However, if you've already got furniture that you need to be moved, we can help!
Whether you've got new furniture to transport or you're relocating pieces you already own, Bay Area Movers can assist you. We have all of the best packing supplies to properly cover your furniture, load it on our trucks, and unload it at its new destination. We'll keep your pieces damage-free, as well as the spaces we're moving in and out of.
Small Moves
If you only need a few things packed and transported to a new location, Bay Area Movers is happy to assist you. We'll assess all of your items, and assign one of our smaller Van Lines trucks to get the job done.
Our qualified team will use their training to properly pack, load, and transport all of your items safely. You'll be done before you know it!
Shipping a Car
Shipping a car to or from Calistoga has never been easier. Whether you're traveling cross country or just down the interstate, our experienced team will get your car there safe and sound.
We use quality car haulers to load up your car, and an experienced driver will take it the rest of the way. If you prefer, you can utilize our GPS tracking option to keep an eye on your vehicle.
Cheap Movers in Calistoga Near Me
If you're searching for "cheap movers in Calistoga near me", then you're in luck! While many moving companies cost an arm and a leg, at Bay Area Movers, we offered prices that we're proud of.
Get in touch with us today, and we'll provide you with a free moving estimate for your move. We are positive that our prices reflect the level of experience and quality that we offer.
How Much Does it Cost?
Your moving quote will depend on the services that your move requires. We're happy to discuss your entire plan so that we can decide which of our services you need, and how far you need to take them.
MOVING COST & TIME EXAMPLES
To/From
2BR
4BR
Days
Calistoga to Fairfield
$1740-
$2130
$3240-
$4600
1 – 2
Calistoga to San Fran
$1800-
$2210
$3370-
$4790
1 – 2
San José to Calistoga
$1970-
$2430
$3730-
$5330
1 – 2
Las Vegas to Calistoga
$2500-
$3130
$4860-
$7020
2 – 4
Seattle to Calistoga
$2810-
$3530
$5530-
$8010
3 – 5
Calistoga to Denver
$3300-
$4160
$6570-
$9570
3 – 5
Calistoga to Dallas
$3940-
$5000
$7940-
$11620
5 – 7
Memphis to Calistoga
$4300-
$5460
$8700-
$12750
5 – 7
Calistoga to Miami
$5190-
$6620
$10600-
$15590
7 – 9
Calistoga to Philadelphia
$5090-
$6490
$10390-
$15280
7 – 9
*Prices and times are estimated. They can vary depending on the season and the contents of the home. Prices do not include packing.
Estimated Weight (based on home size):
1BR=2600 lbs – 3900 lbs
2BR=3900 lbs – 5200 lbs
3BR=6500 lbs – 9100 lbs
4BR=9100 lbs – 14300 lbs
5BR=11700 lbs – 19500 lbs
Storage
If you're not ready to take all of your things right to the finish line, then you might consider utilizing our storage options! Bay Area Movers offer storage facilities across the country, where your items will be safe and protected until you're ready for them.
Let us know where you're headed, and we'll find a storage location closeby. When you're ready for them, we'll load up your items and bring them right to you.