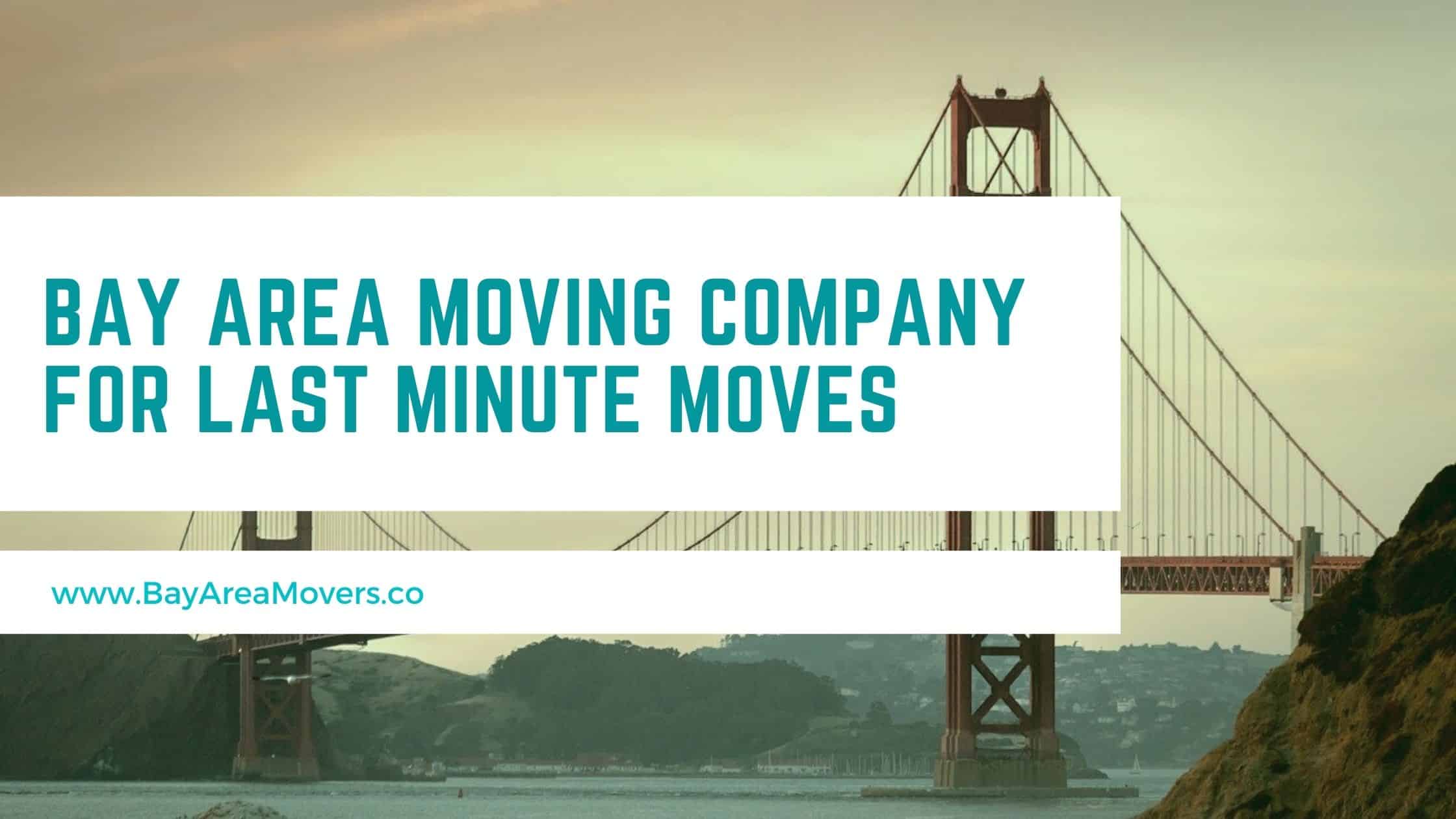 At Bay Area Movers, we know that moving can be a daunting task much less even more stressful if you've been forced to move at the last minute.  So, when you're facing circumstances that demand a last-minute move, Bay Area Movers will do everything possible to alleviate your stress and ensure that things go as smoothly as possible.  No matter what the reason for having to relocate at the last minute, our Bay Area moving team will start working immediately to develop a custom relocation plan that is tailored to your specific circumstances.
What circumstances force people into moving at the last minute?
Many of us have been in situations where someone cancelled their appointment or services or just didn't show up for a pre-arranged event or task.  This is an all too common occurrence with some Bay Area moving companies such as those that aren't that reputable to begin with or aren't licensed.  It's not unusual for companies like these to flake out on you at the last minute.  However, there are other reasons for individuals moving at the last minute including:
Family and/or personal friends bailed on you on moving day
The apartment or house you were living in became uninhabitable
You were given a last-minute job promotion by your employer and have to report to your new location in a matter of days
Your landlord didn't renew your lease
No matter what the reason, it's way too late in the game to tackle this crisis by yourself.  And that's where Bay Area Movers can help. We will be there when you need us. With years of experience dealing with last minute moves, our teams are conversant with the intricacies and can help you at every step, shouldering the responsibilities of the move.
So what should you do first?
The first thing you need to do is take a deep breath and realize that your life is going to change quickly.  Try to focus on the more serious tasks first, such as finding a moving company that is honest and trustworthy.  Equally as important is finding an honest and trustworthy moving company that can get to your home ASAP and start packing your belongings with you.  Our specialists will be equipped with a truck that will handle all of your items and have the equipment needed for the job. Whether it is handling large furniture or dealing with moving antiques and paintings, we have done it.
Secondly, try to remain calm and not push the panic button.  Although making a last-minute move can be extremely stressful, trust your abilities and instincts.  Trust us when we tell you that panic decisions have negative consequences.  When Bay Area Movers is on your side, moving at the last minute can be accomplished quickly and efficiently.  We have a fleet of moving trucks and plenty of strong backs if you need us to help with a last-minute move in the Bay Area.
Are you thinking about a DIY move or hiring professional movers?
This question is inevitable.  However, if you're running out of time, hiring a professional moving team makes more sense.  Let's be realistic.  Professional moves are trained for these kinds of circumstances.  Are you? We're guessing that you aren't.  Our moving team has years of experience with last minute and same day moves.  With our experience and expertise, we can pack and load everything at your current home, transport it to your new location, then unload and unpack everything much quicker than you can with family members and friends helping you. We'll make your move a breeze.
How much does it cost to hire professionals for last minute relocations?
In the moving industry, a move of 50 miles or less is considered a "local move."  So if you move within the same city limits or to an adjacent city, you'll be charged local moving rates.  Based on national averages, the smaller the size of your move, the lower the cost of the move.  The national average cost is $95 to $100 per hour.  On the low-end cost is $80 to $90 whereas it's $100 to $135 on the high end.  Based on these figures, local moving costs based on the number of rooms are as follows:
Studio – $350
1 bedroom – $385
2 bedrooms – $560
3 bedrooms – $730
4 bedrooms – $900
5 bedrooms – $1,075
Just keep in mind that these amounts are based on national averages and that your last-minute moving costs could be different.  Our business representatives are available to help you  get the answers to your queries.