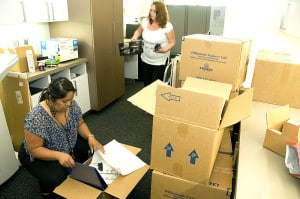 Moving companies offer a variety of services. Some of them are mandatory whereas some of them are completely optional. You might find that many of the movers offer more services than others. A few moving companies choose to specialize in specific moving types, while others like to appeal to all of the possible customers by making sure they can tend to any type of move, whether it be commercial, residential, local or long distance.
When it comes to optional services, it is usually best to purchase at least some of them. They are designed to make your relocation easier on you and to free up more of your time. Of course, you must first make sure you have the room within your budget before you start piling the optional services on.
Kinds of Optional Services
Recycling
Hauling Services
Furniture Liquidation
Tracking Services
Full Packing Services
E-Crate Rental
Storage Solutions
Auto Transport
The above, are just an example of the optional services that you may have to select from. It is ultimately suggested that if you can afford to pay for full packing services, you should go with this service. This is when the movers come in before the scheduled moving date to pack all of your belongings up for you. They will pack everything up securely using the right packing materials and supplies. Every box will be labeled and they will even create an inventory list. This service will free up even more of your time and make the move even less stressful.
E-Crate rentals are recyclable containers that are used to pack up your belongings until they are unloaded at the next location. Recycling services are another green offering that many take advantage of too when they have an environmentally friendly conscious. Many movers are trying their best to offer these green solutions.
If you are unsure of what services will be great additions to the services you need to purchase for the relocation, consult with a customer service representative. You will find that many of these optional services will lessen your workload greatly and make it easier for the relocation to along smoothly.
https://www.bayareamovers.co/wp-content/uploads/2015/05/bam-logo.png
0
0
[email protected]
https://www.bayareamovers.co/wp-content/uploads/2015/05/bam-logo.png
[email protected]
2015-08-09 06:58:30
2015-08-09 06:58:30
Best Optional Services to Consider