Moving to or From Belvedere, California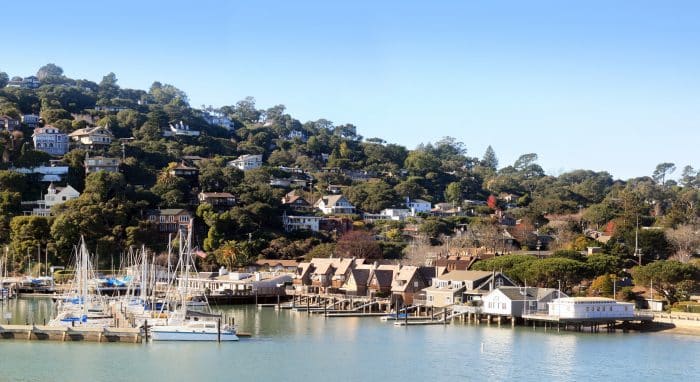 Finding a Mover
The act of moving requires more attention than one might assume. No matter how big or small the move; there are various factors that cannot be ignored. Relocation is time consuming and costly, regardless of how you try to cut corners. You may only end up putting yourself further into debt and stress if you decide not to hire a mover around Belvedere.
Skilled movers will have all of the right equipment and materials to adequately and securely relocate your possessions. They are trained and usually have years of experience to back them up. Their goal is to get everything moved unharmed. This is why many movers carry insurance policies so that their customers can rest their minds at ease.
How Should I Prepare for Relocation?
Preparing for relocation is the best thing you can do under the circumstances. The better prepared you are, the smoother the transition. The first thing that should be done is the creation of a checklist. Write down everything and anything in regards to the move that must be accomplished. Keep this list with you at all times and check off things as you complete them.
It is suggested that packing begin at least five weeks before the scheduled move. After moving day is set up with a mover, is usually when most people begin to pack up their belongings unless they opted for full packing services. Pack up one room at a time and make sure you pack accordingly. Use the right materials and label every box clearly with the room they are to go in.
All hallways and pathways should be free of clutter so the movers can maneuver without being harmed. The rooms should also have open space for the mover which is why many will neatly stack the boxes and furniture against the walls. Be sure there is also space them for them to park near the entrance or exit of the property.
---
Bay Area Movers can help you move your household goods nationwide. Call (408) 659-2190 to get a free, no obligation to buy price quote on interstate moving services.
---
Services offered
The coastal city of Belvedere is a sight to see. Anyone who dreams of living on the water is certain to find the perfect spot in this location, comprised of cliff-hanger homes and residences with their own boat docks.
Are you planning on moving to or from Belvedere? You'll need a dependable moving company when the time comes. Fortunately, Bay Area Movers are proud to service Belvedere and the surrounding area!
With more than 30 years in the business, we're confident we can provide with all of the professional moving services you need. Here's what we can offer:
Full-Service Moving
Packing isn't for everyone; luckily, we're really good at it! If you want assistance through your entire moving process, we've got you covered. We offer:
Packing team to organize and safely pack all of your belongings
Quality packing supplies including packing boxes, packing tape, labels, etc.
A loading team to transport all of your boxes onto moving trucks
Transporting of items from point A to point B
GPS tracking for your peace of mind
Whether your move is residential, commercial or otherwise, we offer this full moving service to take the entire process off of your hands.
Local Movers
If you're moving to or from Belvedere, we are ready to service you. Not traveling far? Our local movers are happy to make the short trek with you.
We offer the same services as our full moving option, or we can provide you with all of the best packing supplies so you can get everything packed up yourself. We take every move seriously, so even local moves will be completed by professionals who care.
Apartment Moving
Moving to or from an apartment in the Belvedere area? Trust us to get the job done fast!
Maneuvering furniture and belongings to or from an apartment is tricky; hallways, staircases and elevators can be tight and awkward! Luckily, we have the equipment and problem-solving skills to get all of your items safely to our trucks.
Whether you're on the first floor or the fiftieth, trust our team at Bay Area Movers to finish the job without a hitch.
Long Distance Movers
No move is too far, and no amount of furniture is too great! We have all of the equipment and staff needed to complete your long-distance movers.
Whether you're moving state to state or cross country, the Bay Area Movers are qualified to transport your items properly and safely.
Office Moving
Bringing an office to the Belvedere area? Let us help you with that!
Our expert staff will apply care and attention to detail into the needs you have for relocating your office. This includes:
Takedown and setup of an office space
Careful disassembly and reassembly of office desks, file cabinets, and cubicles
Complete organization of packing so you know where everything is
Office relocation in as little as one day
Storage options for office furniture
Commercial Moving
Your commercial moving needs are important, and the movers you choose will dictate how soon you can get your space up and running in its new location.
At Bay Area Movers, we're happy to help with commercial moving in the Belvedere area. We'll supply all of the movers, trucks, and equipment you need, as well as any extra supplies in the case of a substantial move.
If required, we'll even help takedown and reassemble your commercial space exactly how you want it.
Shipping a Car
Our teams aren't just furniture-moving experts; we move cars, too! That's right, head down the interstate and you might see our hauls transporting cars safely and securely.
Contact us today and we can start planning your vehicle's safe, insured relocation.
Furniture Moving
Need some furniture moved in the Belvedere area? We're happy to help!
No job is too big or too small for our team. We'll help you wrap up your furniture safely, and load it into our trucks in a way that keeps every piece protected. We can pack up the items for you, or we can work with you to get everything onto our trucks.
Need a safe place for your furniture to stay? We have storage for that!
Storage
Looking for storage options in Belvedere? Look no further! At Bay Area Movers, we offer a range of storage options for all of our client's needs.
Whether you're in between moves, redesigning your home or anything in between, we've got storage options that are safe and secure.
Small Moves
Belvedere is a fairly small city, with a population of about 2,100 people! That being said, we know some people need a moving company that will take care of smaller moves that don't go far from home.
We treat every move like it's the most important one. We'll assess your moving plans and get you the team and supplies you need.
Military Moves
At Bay Area Movers, we truly believe that moving companies should support the men and women fighting for their country.
If you're a military personnel who is moving to or from Belvedere, we'd be honored to help. Get in touch with us, and we can discuss which moving services suit your needs best.
International Moving
Is your move taking you to a different country? Fear not. Our services at Bay Area Movers travel sky-high!
Not only will we help you pack up your belongings safely and securely, we'll also help you in the process of going through customs, dealing with foreign import policies, and more.
This way, you can be sure that all of your things make it to their destination on-time, and in one piece.
Cheap Movers in Belvedere Near Me
We know moving can be tough, so why would you have to worry about paying top dollar, too?
Looking for cheap movers in Belvedere? At Bay Area Movers, we service all of your needs within a budget you feel comfortable with.
Need some prices to get the ball rolling? We're happy to provide a moving estimate that reflects the services you require.
How Much Does it Cost?
We'll figure out what moving services you need, and find a moving quote based on that information.
If you're happy with the cost, we'll work together to find a happy medium that works for everyone. We guarantee that the price you see is the one you'll pay! There are no surprises when you move with Bay Area Movers!
Moving Cost & Time Examples
 To/From
2BR
4BR
Days
Oakland to Belvedere
$1680-
$2060
$3122-
$4420
1 – 2
Belvedere to Hayward
$1740-
$2130
$3240-
$4600
1 – 2
Belvedere to San José
$1860-
$2280
$3486-
$4970
1 – 2
Las Vegas to Belvedere
$2500-
$3130
$4860-
$7020
2 – 4
Seattle to Belvedere
$2880-
$3620
$5680-
$8240
3 – 5
Belvedere to Denver
$3300-
$4160
$6570-
$9570
3 – 5
Belvedere to Dallas
$3830-
$4850
$7700-
$11260
4 – 6
Memphis to Belvedere
$4300-
$5460
$8700-
$12750
5 – 7
Belvedere to Philadelphia
$5080-
$6480
$10360-
$15230
7 – 9
Belvedere to Boston
$5210-
$6660
$10660-
$15680
7 – 9
*Prices and times are estimated. They can vary depending on the season and the contents of the home. Prices do not include packing.
Estimated Weight (based on home size):
1BR=2600 lbs – 3900 lbs
2BR=3900 lbs – 5200 lbs
3BR=6500 lbs – 9100 lbs
4BR=9100 lbs – 14300 lbs
5BR=11700 lbs – 19500 lbs